So, you're ready to spend a night under the stars and start your astrophotography journey. You have the perfect foreground target picked out. You get the tripod and camera setup and set your composition. You're ready to go. But wait, what camera settings do you use? At what should the aperture, shutter, and ISO be set? When it comes to night sky photography, there are recommended camera settings that you can use to start you on that journey to the perfect Milky Way or northern lights photo. What are those settings? Take a look at my updated astrophotography cheat sheet for those answers.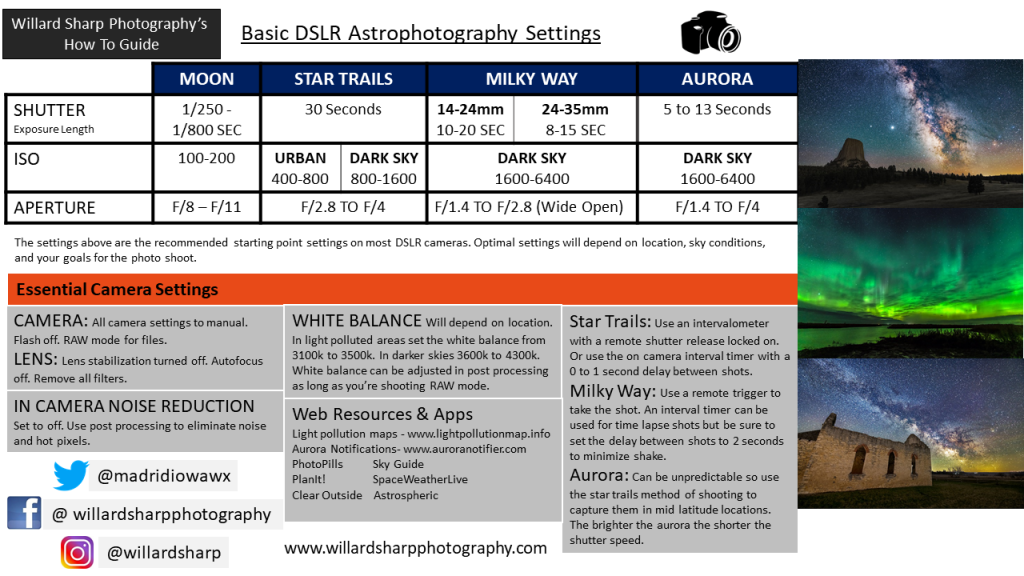 Equipment
My astrophotography cheat sheet provides a great starting point to dial in those camera settings for a successful night skies photography experience, but you'll need specific camera equipment to make your outing under the stars successful. Here's a list of camera gear I take with me on every astrophotography session I do.
DSLR Camera – In most cases any DSLR camera that has the ability to be set in manual mode will work. Of course some cameras are better for night skies photography than others. Modern full frame DSLR and mirrorless cameras work great under the stars.
Fast lens – When shooting the night sky the camera needs to soak in as much star light as possible. For that, a fast lens in the f/1.4 to 2.8 is a must. While other lenses with slower apertures can be used, you'll be forced to increase ISO which will introduce more noise into the photo.
Tripod – When shooting the stars you'll be doing multi-second exposures so the camera needs to remain perfectly still. A good sturdy tripod will accomplish this. Don't skimp on a weak and flimsy tripod. You need sturdiness for a successful astrophotography photo shoot.
Remote trigger or timer – Once the camera is setup and settings are dialed in, its time to take the shot. Don't hit the shutter button on the camera. This will introduce camera shake and your stars won't look right. A remote camera shutter or intervalometer will let you take the shot without camera shake. Many cameras have interval timers built in that will accomplish the same thing.
Soon it will be Milky Way season again. When you head out on your first astrophotography session of 2021 take my cheat sheet along. It will help make your night a success.