The day that many Iowa photographers look forward to with great anticipation has come. Its the day you receive the results post card from the Iowa State Fair Photography Salon. My card arrived yesterday and it came showing good news. Out of my 4 entries I submitted this year 1 was selected for display. Last year I had 3 photos selected for display. This is only my second year entering this photography contest.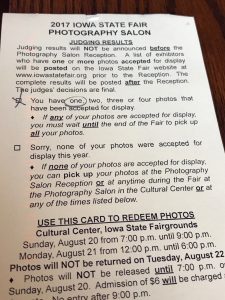 Here's the 4 photos I entered this year.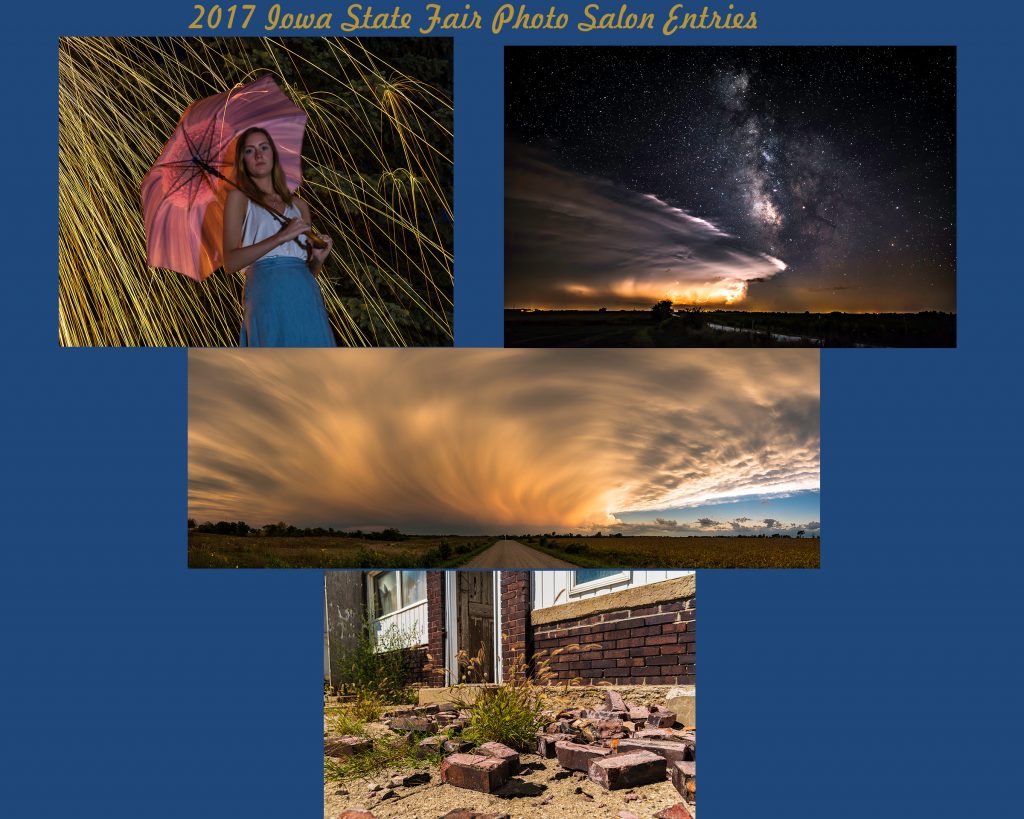 This photography contest is one of the largest in the nation. Winning an award or having your photos exhibited is hard. We have a bunch of talented photographers who enter this contest that submit beautiful photos. I honestly don't know how the judges and organizers do it as they go through the process of judging and making selections. I'm not sure I could do that job.
I understand its easy to get discouraged when you work hard and your photo doesn't get chosen. I've entered plenty of photography contests where I didn't win a thing. Was I disappointed, yes. But I took that disappointment and turned it into an opportunity to learn and make myself a better photographer. And through a lot of hard work and practice I've done that. If you entered the state fair contest and was not selected for display or won an award please don't bash on the judges or organizers of the event. Most of them are volunteers who are making little or no money on this. Instead of bashing take a long hard look at the photos you submitted and ask yourself why didn't these photos get selected by the judges? Judging is subjective. If you brought in 50 people to judge all of the submitted photos you would get 50 different results. You could take your same photos you submitted to the state fair to another contest and win 1st place. Photography is art and art is subjective in the eyes of different people.
When it comes to the Iowa State Fair Photography Salon you have to dare to be different. Get out of your comfort zone. Don't submit the same photo that everyone else is doing like sunsets, the Des Moines skyline, eagles, the Papa John sculpture park, and things of that nature. Unless those photos are very special in some way stay away from those because the judges are going to see dozens if not hundreds of then. Your photo not only has to WOW the judge, but it needs to wow anyone who see's it. You want the viewer of the photo to say WOW I wish I could have seen that. If you enter photos in different categories make sure those photos are of different subject material. On social media I've seen several disappointed people who entered photos and can't understand why their photos were not selected. The photos were of very similar content. The content MUST be different across the multiple categories. If its not you just got yourself a ticket to the fast lane of photo rejection!
I'm in a constant state of learning when it comes to photography. Keep shooting, reading blogs, watching videos, try different settings on your camera and then shoot some more. Make sure you have good and unique composition in your photo. Master the art of post processing so that photo will look real and vibrant but not oversaturated or fake. You get the idea. Your photography will improve.
Photos from this years contest will be available in the 2017 Photography Salon book. The book is $5. Pick one up and review the photos that were selected. Look at the content and composition to get ideas on how to improve yours. At Christian Photo the salon books from past years are available on the coffee table when you enter the store. Take a look at those as well to see what photographers over the past several years have done.
Congratulations to everyone who either won an award or was selected for display at the Iowa State Fair Photography contest. If you didn't get selected don't despair or bash the judges. Look at your work and see if it needs improvement. Take constructive criticism if its offered to improve your photography. And remember art is subjective. Your photo may be a winner in a different setting.
Most importantly never stop learning and never stop shooting!
Willard Sharp