It appears the 2021 chase season is starting to wind up, at least for the next week or two. What will the remainder of 2021 bring? Will it be a banner year or quiet? Regardless, we'll see storms in 2021 and chasers all around the world will be looking for the stellar shot. Its time to take your extreme weather photography to the next level. Let's review some basic camera settings to optimize your chances of getting the next great extreme weather photo.
Camera settings can seem daunting at times, but getting the basics down that will improve the quality of your extreme weather photos is quite easy. In today's post, I'll share with you tips to improve your weather photography by setting the right aperture on your camera lens. It's time to go get that camera out of automatic mode!
What is Aperture?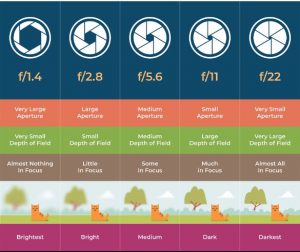 The aperture of your camera is basically the hole in the lens that widens and narrows to allow more or less light to hit the camera sensor. Aperture is a number denoted in f-stops. Typically lenses can operate in the f/2.8 to f/22 range. The correct aperture setting will have a profound influence on your photo. The aperture settings I use are very standard settings used by many landscape photographers. Remember, when you're taking photos of extreme weather you're typically going to be in a landscape setting.
Avoid Wide Open Apertures
Storms are big and since they are big you typically shoot with a wide angle lens to capture everything. If the aperture of your lens is wide open (low f stop value) thats not going to produce the results your looking for. The image will tend to be soft and not look as sharp as it could.
To shoot storms, you want to ensure your aperture is in a middle range, not too closed down but not too open. A lot of automatic modes with cameras will try to keep your aperture as open as possible because this creates a beautiful bokeh affect for photos. Bokeh is fine in certain situations, but not when you're photographing storms on a wide open landscape.
If at all possible don't open your aperture to f/5.6 or below.
Best Apertures For Storm Photography Are?
In many cases, the range for the best apertures for storm photography rest within the f/5.6 to f/13 range, depending on your camera and lens. Generally setting your camera in that range gets you the best combination of sharpness plus a deep depth of field.
What do I shoot? Typically I shoot in the f/8 to f/13 range depending on the scene and light conditions. f/10 or f/11 almost exclusively.
Good Depth of Field Mean You're Scene is in Focus
You'll want to ensure more of your scene is in focus when you capture those dramatic skies across an open landscape. You want this because you want viewers to see more detail. A good tip to ensure most of your scene is in focus is set a deeper aperture (that f/5.6 to f/13 range), shoot with a wide angle lens (15-35mm) and then focus about 1/4 of the way into the frame. This will ensure your entire scene is sharp and in focus.
Now you're on the way to setting up your photography game. I'll be writing more of these blogs explaining how to improve your extreme weather photography game. Until then keep shooting and stay safe.
© Willard Sharp
Willard Sharp Photography