The winter of 2018/19 will be remembered here in Iowa as a winter that started out slow in regards to snowfall, but really kicked into gear the last half of the winter. Central Iowa saw its snowiest February on record. With the snow and cold I haven't been out as much these past couple of months. My thoughts are on the upcoming storm chase season and keeping an eye out for clear skies at night so I can do some Milky Way hunting. Even though I wasn't out much these past couple of months I still got out and captured some amazing photos.
This past January I once again rented the Tamron 150-600 G2 lens. The purpose of this rental was to capture the total lunar eclipse January 20th. Unfortunately mother nature put a damper on that quest with cloudy and hazy skies. The lens rental did not go to waist however! That weekend I took the lens out on a quest for birds and other wildlife photo opportunities. My quest paid off big time.
I stopped by the Iowa Arboretum the day before the lunar eclipse. Not because the flowers where in bloom, but because of the large variety of song birds that hang out in the trees and near the feeders at the arboretum. Even with the cold and fresh snow, birds where busy eating at the feeders. I got many great shots of many different species of birds, but this one of a female cardinal was by far my favorite photo of this day and of the past couple of months.
My January and February photo of the month is called "Taking Flight"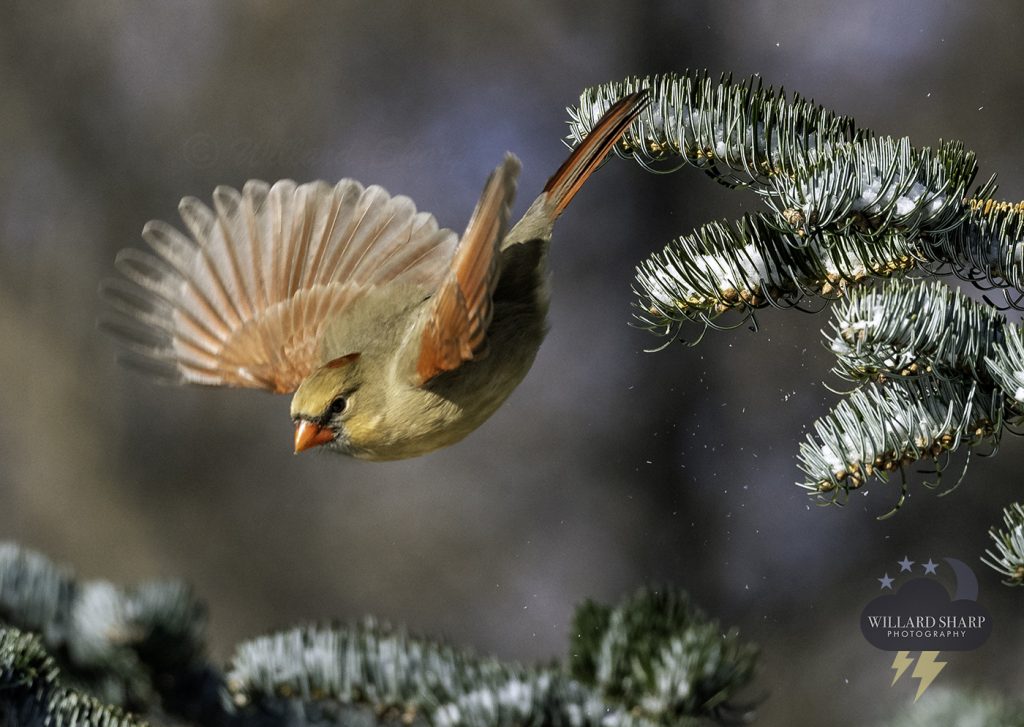 What impresses me most about this photo is the sharpness of the cardinal and details. You can see details in the feathers and wings. Did you notice the snow falling off the pine branch? I didn't until a day later. Very cool indeed. The details comes from using a high quality lens, along with the proper camera settings.
Now that its March I'm looking forward to spring. That means I get to focus on my niche areas, extreme weather and night skies photography. And of course warmer weather! No matter what the weather keep those camera rolling and never stop shooting. You never know what you may find!
© Willard Sharp Willard Sharp Photography