Summer is quickly winding down and before you know it cooler weather and fall colors will be here. Fall is one of my favorite times of the year. Lots of photography opportunities await. Viewing of the Milky Way galactic core is also starting to wind down for the season with only a few more opportunities for good core viewing before it dips below the horizon for winter. This months photo of the month comes from a trip I took up to Grand Marais earlier in August. This region has very dark skies ranging in the Bortal 1 and 2. This means very little light pollution exists and that makes excellent viewing of the starry night sky. While up in the Grand Marais area I visited several spots for night skies photography. One of those was the Two Island Lake. This spot had an ideal view of the night sky. The shore line lined up nicely with the Milky Way.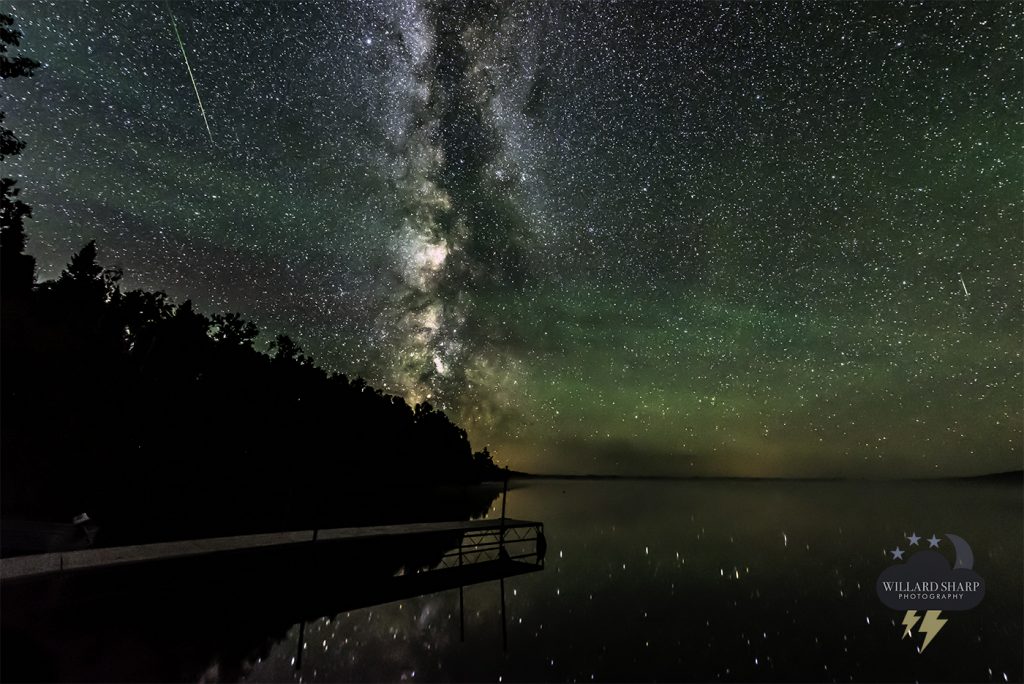 The weather conditions on this night were nearly perfect at Two Island Lake. Calm winds and clear skies made for perfect viewing of the night sky. The calm waters on the lake allowed me to capture reflections of the stars. As the night progressed, however, light fog did develop over the water and eventually I had to head out because the fog was blocking the view of the stars. You'll notice a bunch of green color in the photo. This greenish glow was not caused by the northern lights. The color was caused by a phenomenon called air glow. Airglow is caused by various processes in the upper atmosphere, such as the recombination of atoms which were photoionized by the sun during the day, luminescence caused by cosmic rays striking the upper atmosphere, and chemiluminescence caused mainly by oxygen and nitrogen reacting with hydroxyl ions at heights of a few hundred kilometres. On this night the air glow was bright and caused the sky to appear slightly green to the naked eye. The camera on long exposure captured this event very well. The camera settings I used to capture this image was a shutter speed of 13 seconds, aperature f/2.8, and ISO of 8000. The lens used was a Tamron 15-30mm and the camera was a Nikon D750.
Be sure to checkout my site for other blogs, how to's, workshops, and the gallery. As always I have prints available at the online store.
© Willard Sharp