I'll be teaching 3 astrophotography and night skies photgrpahy classes at this years photography day at Living History Farms in Urbandale on Saturday September 16th. This is my 2nd year teaching classes at this event and its a wonderful opportunity for people of all levels of camera experiences to come out and participate in many different classes. I guarantee you'll find a class that you'll enjoy and learn much from.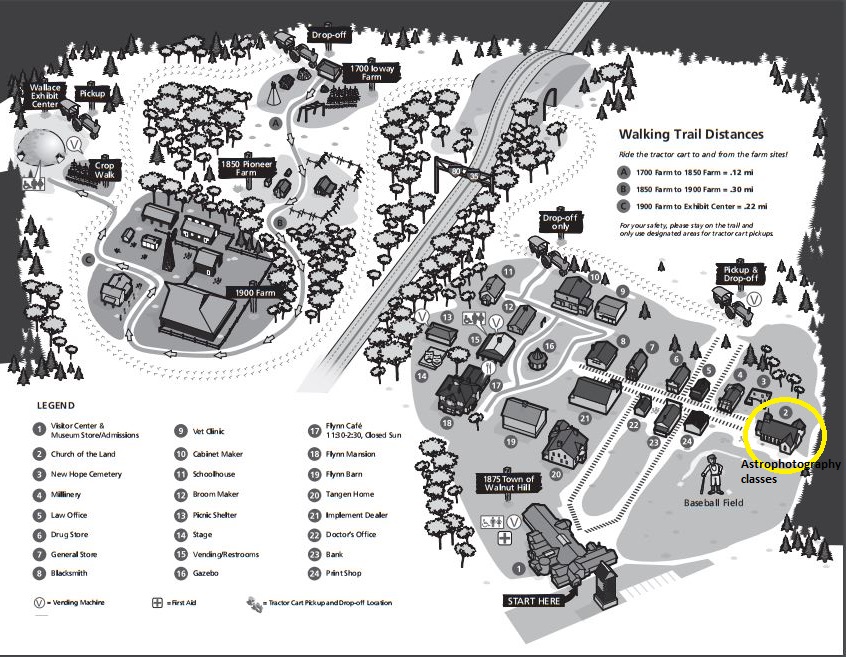 My night skies and astrophotography classes will be the first 3 class sessions of the day located in the church basement. The church is building #2 on the LHF map you'll be provided.
The first class of the day I'll be teaching will be an Introduction to Astrophotography. That class will start up at 9:15AM. In this class we'll cover the preparation steps for an astrophotography photo shoot; planning your adventure; scouting out locations ahead of time; websites and planning apps; review camera equipment needs and a review of camera settings.
Class #2 that I'll be teaching starting at 10:30AM will be Advanced Astrophotography. In this class we'll dive deeper into camera settings and focusing at night. Aperture, shutter speed, ISO and more will be discussed in detail. We'll go into the particulars on photographing the Milky Way, star trails, aurora, and the moon.
The 3rd and final class that I'll be teaching will start at 11:45AM and is called Introduction to Night Photography. In this class we'll cover several topics including camera settings for cityscape photography, moon, stars, fireworks and other subjects at night.
It will be a fun day and I'm proud to be a part of this event teaching alongside many talented photographers. Not only will you have an opportunity to learn from myself and many other talented teachers you can visit various camera and lens vendors up at the barn. They'll be onsite all day Saturday. Be sure to stop in and check out what they have to offer. For full details on this event please visit the Living History Farms website at https://www.lhf.org/event/photography-day/. See you this Saturday!
© Willard Sharp